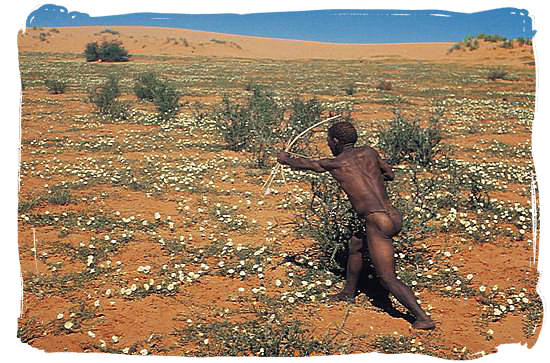 By Lyndall Beddy

South Africa was the land of the Khoisan. When the Dutch arrived to establish a trading station at the Cape in 1652 on Khoisan land; the Xhosa were arriving in the area which later became the frontier of the Cape Colony and displacing the Khoikhoi King Hintsathi, and the Zulus were trekking into the northern part of Natal from the Congo. The Xhosa claim to have "bought" their land from King Hintsathi's widow, Hoho, for a sum of cattle (like Rhodes later claimed to have "bought" Rhodesia from Lobengula).

White settlers therefore arrived in the South in the same century that black settlers arrived in the North, and both displaced the Khoisan off their land.

White and black did not meet, except for the occasional explorer or trader, until the next century when Xhosas and settlers started to clash on what was then the frontier of the Cape Colony, formerly the land of the Khoikhoi King Hintsathi. These were local battles confined to the frontier which started after white and black met in the 1770s.

Whites only started to encroach on "black" land after the Great Trek of 1835. The trekkers were a small group of landless poor whites who trekked out of the Cape Colony in oxwagons. Exactly how were these few hundred people supposed to advantage the hundreds of thousands of blacks? Split up an oxwagon and give everyone a splinter?

The history of SA thereafter follows a pattern – boers move in and start "buying" black land, missionaries go screaming blue murder to the Brits, the Brits set aside tribal lands which the chiefs are not allowed to "sell" and the boers to "buy". The British Parliament then starts screaming in their turn about the cost of administering the tribal lands. The administrators try to tax the blacks, who go into revolt. The Brits give up – and hand the area over to the boers to administer, extracting a promise not to "enslave" the people.

Then came the disaster of the Anglo Boer War resulting in the destruction of the farms and the livelihood of the Afrikaner (and their workers) in the most expensive war that Britain had ever fought until then. Now Britain was really faced with an expense – the rehabilitation of the farms would have cost a fortune. Cheaper to hand the WHOLE country to the boers including Natal and the Cape! And out of this "glory" was born the Union of SA in 1910. And from then it was downhill for most of the next 84 years. Napoleon had a point when he called the Brits "a nation of shopkeepers".

How does any of that add up to 300 years?